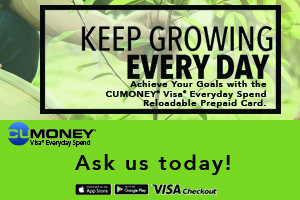 The power to manage your money is in your hands with a CUMONEY Prepaid Debit Card. You can fud the card with a dollar amount of your choice and re-load it with more money as you need it, at any time. Funds can be re-loaded online or in our office. You have the ability to track your spending @ www.cumoney.com. You can only spend the amount on your pre-paid debit card, so you never overdraw a checking account.
CUMONEY Prepaid Debit Card Overview:
Cards can be loaded anytime with any amount between $10 and $5000
Ability to re-load funds onto the card
Can be used anywhere Visa is accepted.
If you have already purchased a Prepaid Debit Card, please call 833.729.2853 if you would like to:
1/Activate the card
2/ Report the card lost or stolen
3/ Find account information