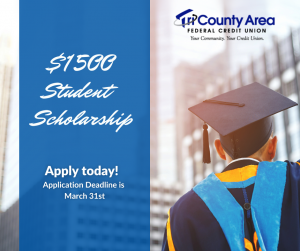 HONORING COMMUNITY INVOLVEMENT AND ACADEMIC ACHIEVEMENT
Each year Tri County Area Federal Credit Union awards a $1,500 academic scholarship to the most qualified applicant. Scholarship funds are to be used for higher education at an accredited college or trade school. The award will be paid directly to the accredited school for tuition purposes and must be used by February 1, 2024.   
AWARD
The Tri County Area Federal Credit Union Student Scholarship is awarded to one applicant based on his or her community involvement and academic achievement.
ELIGIBILITY
Eligible applicants include Tri County Area FCU members, or children who will be enrolled at an accredited college or trade school during the 2023/2024 school year.  Applicants may apply each year, however, only one application per individual per year will be considered. Current employees, board members and their relatives are not eligible to apply. A minimum 3.0 cumulative grade point average or equivalent class ranking is also required. If you are not a Tri County Area FCU member, you can become a member with as little as $5.00 to open a savings account.  We also offer Free Student Checking and Student Loans.
APPLICATION DEADLINE
Applications must be postmarked by March 31, 2023.
SELECTION PROCESS
All eligible applications will be reviewed by a fair and impartial committee. The committee will score based on:
The Quality of Your Essay

Your Community Involvement

Your Academic Achievement
The winner will be contacted by April 30, 2023